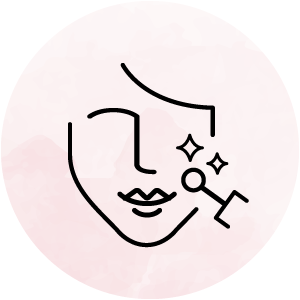 WHAT IS MICRO-NEEDLING?
 Also known as Skin-Needling & Collagen Induction Therapy (CIT), it is an effective skin treatment that treats skin aging, acne scarring, hyperpigmentation, skin texture, mild rosacea, fine lines, and skin laxity.

It is a minimally-invasive non-surgical and non-ablative procedure for facial and/or body rejuvenation that involves the use of a professional skin-needling device to create controlled injury to the skin.

Micro-injuries, done by Micro-Needling, allow for the release of serum containing growth factors that stimulate: Collagen, Elastin, Fibroblasts & Melanocytes. This is when REAL CHANGE happens in your skin!
Micro-Needling is a fantastic skin treatment that involves no chemicals or foreign substances to the skin. Your body's own rapid repair response is so effective when repairing your skin! The micro-channels that are created in the skin during Micro-Needling is the catalyst to better, younger, smoother skin.
*All clients receiving a Micro-Needling treatment will be numbed using a topical numbing agent to keep you comfortable during the procedure.
BENEFITS
Skin Rejuvenation-For the face & body.

Cost effective– More affordable than most laser or IPL treatments

Minimal discomfort (Feels like a sun burn)

Growth factors are activated (Fibroblasts and Melanocytes)

Increased blood flow to areas of poor healing

Collagen is stimulated (Your own natural fillers)

Fine lines, acne scars, large pores and wrinkles are minimized

Scar Relaxation

Stretch Marks (white in color only)

Mild Rosacea (vascular only)

Rapid healing time (2-5 days)

Can be repeated every 6-8 weeks(Lower settings) 6 months for more aggressive treatments

No ablation of the epidermis

All areas of the face, neck and body can be treated

Can last 2-10 years—(Depends on clients age and lifestyle

)
DAY ONE
Erythema/Redness appearance will depend on the severity of the treatment performed. Can be very red or minimally red (depends on individual's skin). Swelling is normal.
DAY TWO
A red, pink or purple hue can persist like a moderate sunburn. Redness will be more even and swelling may be more noticeable.
DAY THREE+
Skin is substantially less red/pink and normal coloring starts to return. Swelling begins to subside. Some residual flaking/light scabbing will continue in the areas that were treated more aggressively.
*When scheduling your Micro-Needling treatment, please allow at least a week (maybe two weeks) of healing time before attending an event.
The Micro-Needling treatment itself does not take long. I book an hour and a half per procedure to allow for numbing time, consent forms, the treatment, and aftercare instruction.
LIMITED TIME
MICRO-NEEDLING
Limited-time Introductory Price $150. This includes full-face treatment. Additional areas such as  neck, chest or body are additional.